There are many useful reasons for learning how to attach PDFs to QR codes. Once you know how to do this, students can open worksheets, PowerPoint displays, informational sheets, etc. just by scanning a QR code.
However, in order to create a QR code that opens a document, you must first have two important things 1) a place online to store the PDF document and 2) a link assigned to that document that will open it when clicked on. Thus far, I have used
Dropbox
and
Gmail
with great results. Both are free but require registration. As of the time I am writing this, Dropbox gives you 2 gb of storage and Gmail gives you 5 gb.
For this post, I will share how to use Gmail to create QR codes that open PDF documents.
1) Make sure whatever file you have created or are using is saved as a PDF file. If you are confused about this, just Google or ask around – it is usually just a matter of clicking on "Save As" and changing the File Type box at the bottom to PDF.

2) Open your Gmail account (or register if you don't have one)
3) Click on Drive, located at the top menu bar.
4) Click on the arrow by the Create button and click on files.
5) Gmail automatically saves your file as "private," so make sure to change these setting so anyone with the link can open it.
To do so:
a) Click on the file you want to share and click on "share" in the bottom right-hand corner.
b) If it doesn't say "Anyone who has the link can view" like it says in the image below, then you need to click on "change."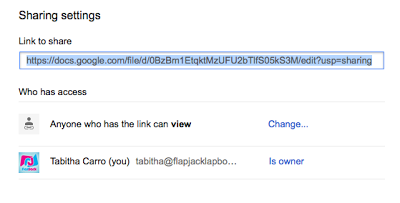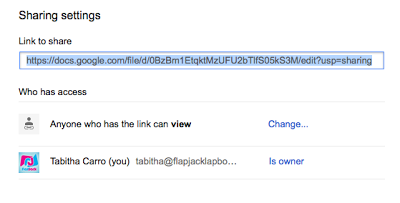 c) From there, click on "anyone with the link."
d) Click save. It should redirect you back to the box with the unique link to your file. Be sure to copy this link.
6) Now, that you have a link connected to your document, you can create your QR code. Go to
qrstuff.com
and insert your link into the website link box and you're code is ready. If you need more instructions on how to create a web link QR code, click here.
Ideas for PDF QR Codes:
1) PowerPoint Slide Shows (once saved as PDFs)
2) With your guidance, students can create their own informative slide shows, save as PDFs, attach them to QR codes, and then print them out. Display the codes on a wall in the classroom where students can visit with scanning devices and learn from each others projects.


Tabitha Carro