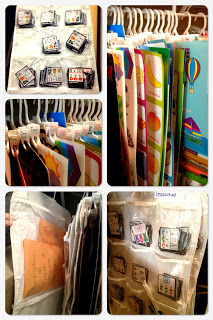 Hey, everyone! Hope you're having a great Wednesday. I am in the slow process of trying to organize everything in my classroom like a normal teacher does. I know all teachers are supposed to be type A organizers, but unfortunately I don't fall into that stereotype…but I'm trying. 🙂
My first step this week was organizing my posters. I was given a bunch of awesome Spanish ones from a friend in Argentina but hadn't used them yet because they were all heaped together in one very hot mess. My amazing partner teacher suggested using hangers. I do not have one single extra hanger in my house, so I found 75 of the grip clip kind on Ebay.
After clipping all of the posters, I organized the hangers with labels. Red for Spanish, green for science, and blue for math.
Then I stuck one of those removable hooks on my door. Now I can switch posters in a flash. It's kind of ugly, but it's better than no posters at all, right? I also attached some sticky tack on the back of the corners on this poster since it's huge.
Some Ways I Use My Posters:
Using small white boards, students can create illustration or sentences with the words on the posters.
Now, anyone who knows me as a teacher knows I love using games and centers in my classroom on a daily basis. I especially have enjoyed creating poke games in my centers since they are hands-on and self-checking (click here to see more about poke games). However, my organization needed help.
So, I bought some pantyhose organizers on Amazon. Makes sense, right?? 😛 But they work perfectly. Students can choose from many options, switch games, and keep them all organized in one place.
And the backs have two awesome pockets for larger storage.

And for an instant math center, just stick a removable hook (I used the 5 1b. one for this) and stick it on the side of something.
And if you're looking to organize your classroom with a certain theme or color scheme, be sure to check out the following classroom material bundles I have created: